Get to know my story
A Creative Wonderland was born out of an effort to bring the vibrant colors and astounding visuals from Alice's Wonderland into the real world through crocheted wearable art.

For 15 years I have specialized in whimsical and stylish clothing and accessories, and more recently exploring trippy tufted rugs and adult themed plushies.
There is love knotted into every stitch I make! I want you to feel that special connection made with me when you buy my art. Everything is positive vibe fortified, enriched with good tunes and is part of a complete, balanced and groovy experience!!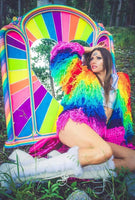 Rainbow Fantasy Shag Jacket
mamashbby on Dec 27, 2017
5 out of 5 stars    
This is by far the most beautiful jacket I've ever seen!!!!! It's sure to make you the center of attention wherever you go. The craftsmanship is amazing! The shop owner is really nice & answered all my questions. Shipping took less than I expected. 
I highly recommend shopping from Lindsey.